Dataloggen op de HP Prime
De HP StreamSmart 410 helpt studenten wiskunde en wetenschap te visualiseren door resultaten uit experimentenin real time te streamen. Breng experimenten tot leven met de HP StreamSmart 410.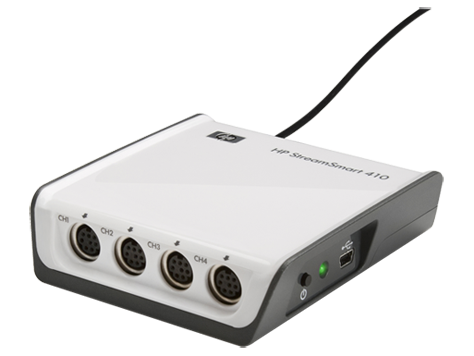 Ontworpen voor gebruik in wiskunde en wetenschapklassen, verbindt de HP StreamSmart 410 real-world gegevens met de grafische rekenmachine van de leerling, met nauwkeurige en directe real-time streaming. Geschikt voor gebruik in een breed scala van onderwerpen, zoals: wiskunde, natuurkunde, scheikunde, biologie, statistiek, aardrijkskunde, milieu-wetenschap, fysieke wetenschap, en fysica
Niet meer op de resultaten wachten
Kijk en leer met real-time verzamelen van gegevens. Leren wordt spannend als u tegelijkertijd maximaal 4 datastromen kunt vastleggen (beweging, geluid, temperatuur, licht, etc.) en zie de resultaten in real time - zonder enige vertraging!
• Snel verzamelen van gegevens met een snelheid van 5.000 stuks of meer samples per seconde
• Identificeert en selecteert automatisch het type sensor meeteenheid en optimale schaling
• Zoom in of uit op de datastromen in real time
• Ondersteunt data-streaming, data logging, selectie van evenementen en evenementen met ingang
Gebruik met de HP Prime Graphing Calculators (G8X92AA) en Fourier data sensoren
• Ontworpen voor gebruik met de HP Prime Graphing Calculator (G8X92AA) en de Fourier meetsensoren
• Exporteer geselecteerde data naar de HP Prime Graphing Calculator (G8X92AA) voor verdere analyse
Start experimenten snel en gemakkelijk
• Zeer kleine en ultra-draagbare oplossing
• Zendt automatisch de verzamelde data naar de ingebouwde analyse-tool. Niet nodig een nieuwe set te leren.